Elderly transportation service navigating COVID rocky road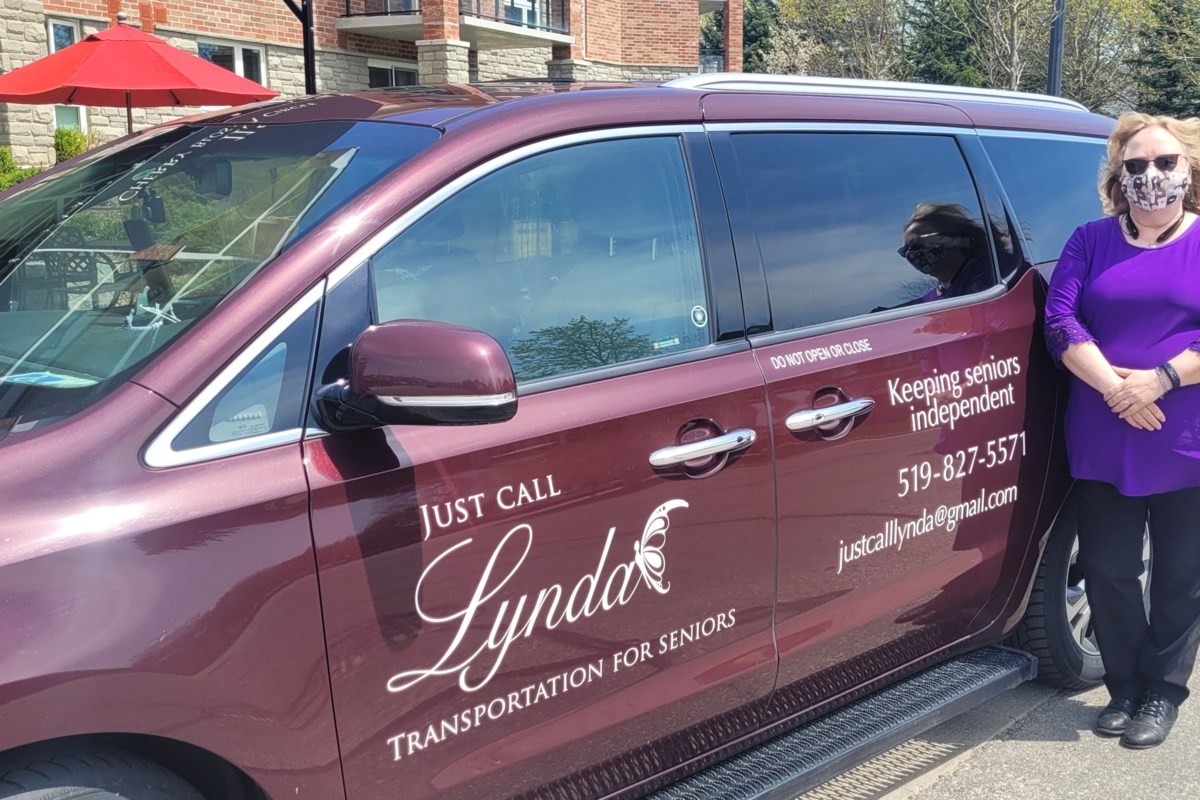 It is a service that has been more than just a means of transporting someone from one point to another.
But it's the one that's been devastated by the pandemic, whether it's financial hardship, government regulations or the death of around 60% of its customers after contracting COVID-19.
Since 2017, Just Call Lynda has been driving Guelph-area seniors to medical appointments, grocery shopping, or just to grab a cup of coffee with friends.
"I have quite specialized clients," said owner Lynda Flisak GuelphToday.
"(For example), I take a gentleman out every Tuesday morning from 10-12 and we ride just on the outskirts of town."
"He doesn't talk because he has frontotemporal dementia, and his zest for life is just driving. For two hours, I do this so his wife has two hours off."
Flisak's mother, Georgina, had dementia and died in 2014.
Flisak earned his certification and started the business in his memory. Not only does she help the elderly get around, but she uses the lessons she's learned to help family members navigate a road that can be unpredictable.
Families including the Galluccios. Maria Galluccio's 74-year-old sister developed Lewy body dementia about three years ago.
"There are so many challenges you have to deal with, but to feel that the transportation part is somehow taken care of, or there for you, and that you have someone supporting you, that means a lot," said Galluccio.
She said Lynda's service provides comfort, knowing that Lynda isn't just driving, but making sure her sister gets in and out of appointments and gets back to her nursing home safely.
Paula Deane's father was also diagnosed with dementia and needed to find someone to take him to his appointments after using his vacation days from work to care for him.
"Having to take care of her dates and my mom's dates, it was just overwhelming and I couldn't do it anymore," she said.
She said her father would have an appointment in Kitchener, and Lynda would walk with him inside and leave her card with the receptionist to let him know he was ready to be picked up.
Deane praised the service, noting that it has become more than just a transportation option, but also a family friend who goes the extra mile.
But with multiple hurdles to overcome, Flisak explores options just to keep his business alive.
"Everything was fine, then 2020 hit the brakes so fast," she said.
She had to deal with a myriad of things, including an initial five-month closure of her business, brought on by the city's state of emergency.
Flisak was initially able to secure government funding, but was later cut off due to another hurdle: she was told that her senior transportation business was classified as a "limousine service" and would not was not considered essential.
The money she got was enough to sustain her a bit, but combined with the sharp drop in clientele, the well is drying up.
"I've lost 80 clients since COVID started, who have died," Flisak said. "And I've had 13 moves into long-term care, or close to family."
She added that the January lockdown in Ontario left her "financially ruined," and some confusion about whether she should charge GST/HST led to even more hardship.
It's an ordeal that has put it in a position to want to close later this month. But after a conversation with his financial adviser, Flisak changed his mind.
"I still owe the government back taxes because they just see black and white and categorize me as limousine service," Flisak said.
"If I had 130 customers a month like before, I wouldn't have any problem," she added. "I would be able to make all those payments. But with only about 37 customers a month, I dipped into my savings account just to run my business."
Flisak said she knew the business could bounce back because there were a lot of older people, but she didn't know enough about the service it offered.
"I don't go down lightly," she said. "I fight to the death, I do everything I can."