Falcon Girls claim victory in indoor track and field competition | News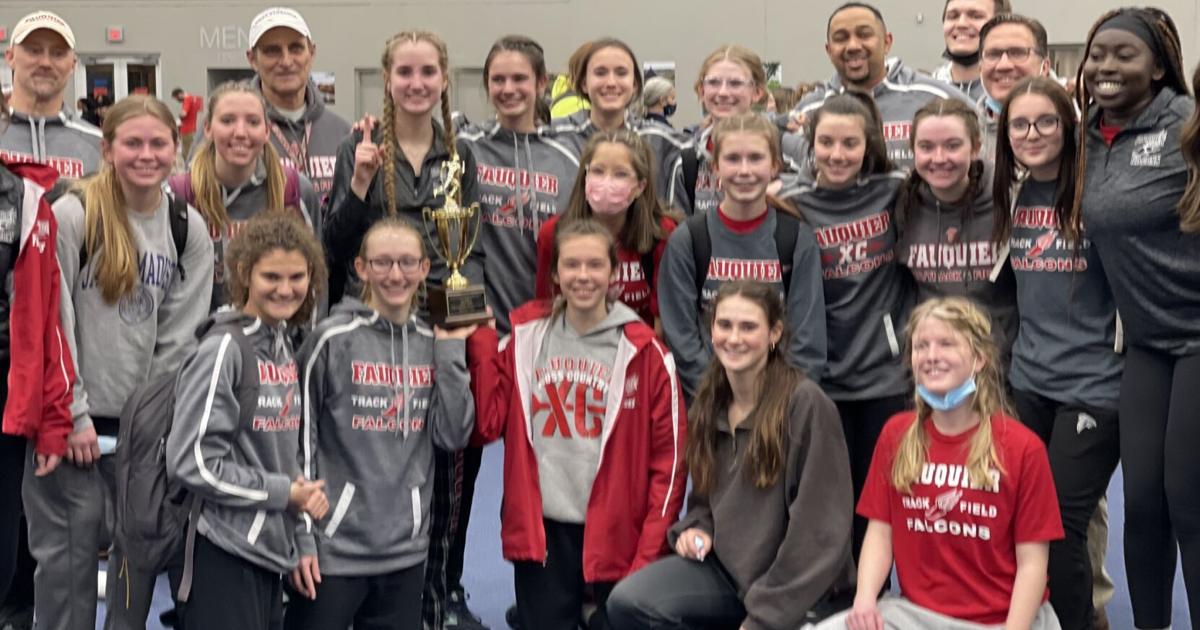 Marissa Martin, Fauquier's assistant coach.
Several weeks ago, Fauquier's track head coach, Quintin Jones, lamented the adverse effects of January's winter conditions, which prevented the Falcons from focusing on the jumping events before the next Northwestern District indoor meeting. .
Jones did not want to enter an athlete who had not found their respective starting points on the track or on the high jump apron.
"We pretty much lost the whole month of January," Jones continued. "Finally, Marissa said, 'Let me try some jumps.' "We did it, they found their feet and they did well."
Good enough to help propel Fauquier to the girls' tag team championship on Monday at Shenandoah University in addition to a runner-up spot for the boys' team.
The Falcon girls have scored in 14 of 15 events, winning seven en route to 140 points, well ahead of James Wood at 88 and Handley (82). Millbrook (48), Sherando (35), Liberty (32) and Kettle Run (31) followed the leaders.
The Fauquier boys won five gold medals and scored in 13 events but finished second to Handley. The judges picked up a 136.5-122 win, with James Wood (82), Millbrook (54), Sherando (33.5), Liberty (24) and Kettle Run (8) rounding out the field.
The top six individual and top three relay teams will return to Shenandoah University next Monday for the 4C Region Championships.
Fauquier's field events team collected 53 of their points in the girls' category, including 24 in the triple jump. Mackenzie Hodul won with a jump of 32 feet, two inches. Evie Goetz (32-0.5) and Brooklyn Bartholomew (30-5.5) placed second and third, respectively. Goetz was the winner in the long jump at 14-8.5.
On the track, Cassidy Scott won gold twice with wins at 1000 (3:06) and 3200 (11:46.36). She won the first by over six seconds and the second by over eight. Aubrey Fernandez finished with a margin of three seconds in his victory in the 500 meters in 1:23.07.
Madison Bayliff won the shot put with her throw of 32-8, while Stephanie Clark (30-2) was third. Kiki Wine, Abby Gray, Fernandez and Katey Bern combined to win the 1600 relay in 4:27.14. Wine was also second in the 1,600m (5:25.53). Other bronze medalists were Annaka Busenlchner (55 sprints, 7.83), Hodul (55 hurdles, 9.95), 800 relay (1:56.66) and 3200 relay (10:49.42) .
John Byner won two boys' titles, winning the 55 in 6.87 and the 300 in 37.65. Dylan Damer cleared 9-6 for the pole vault crown, and Wyatt Shaw easily won the long jump at 19-1.5. Peter Pacassi beat the 1600 meter peloton in 4:36.
Nicholas Curtis was the silver medalist in the shot put at 48-4. Paccassi (1000, 2:48.22), Josh Burke (pole vault, 8-6), 800 relay (1:39.44) and 1600 relay (3:49.25).
Liberty, Kettle Run Medalists
Liberty's Isabella Cavins won the Girls 55 in 7.53 followed by Maya Turner at 7.91. Cavins also finished second in the 300m in 44.43.
Liberty's Peter Rummel, Gabe Sealock, Jacob Phelps and Cole Hoffman combined for gold in the 1,600 relay in 3:44.77. Earlier, Rummel, Aidan Neidich, Phelps and Hoffman finished second in the 3,200 relay clocking 8:6.51.
The Kettle Run duo of Colleen Schaner and Ashley Nickerson continued to dominate in the pole vault. Schaner cleared 11-6 for the win, followed by Nickerson at 9-6.