Iran considers coordination between Israel and CENTCOM a threat to national security: top general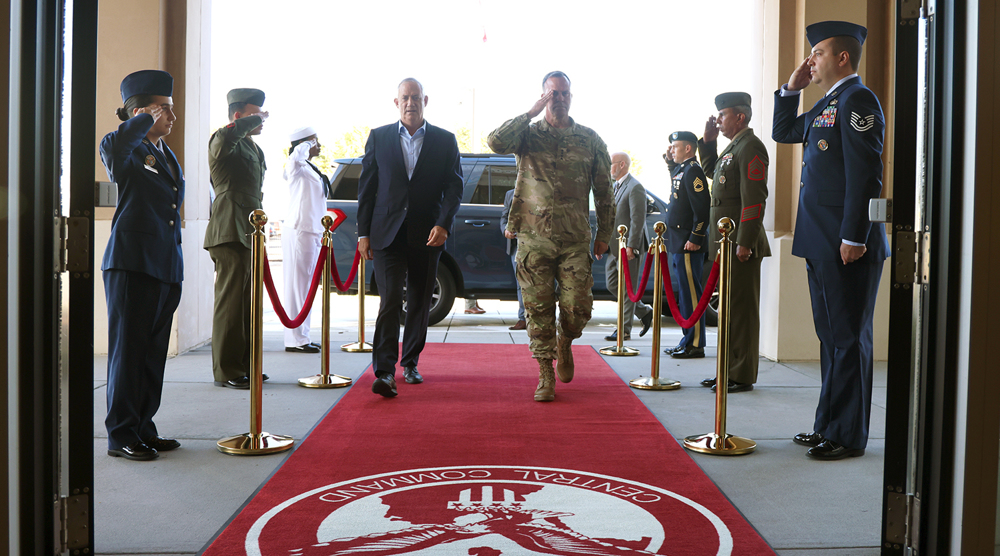 Iran's top general warned of the ramifications of growing military coordination between the US Central Command (CENTCOM) and the Israeli military, saying the Islamic Republic interprets this development as a direct threat to its national security.
Chairman of the Joint Chiefs of Staff of the Iranian Armed Forces, Major General Mohammad Baqeri, wrote in an online message that the US terrorist military tried to compensate for the withdrawal of its aircraft carriers, helicopter carriers and Persian Gulf and Arabian Sea destroyers. by connecting the "child-killing" Israeli army to CENTCOM.
"The meaning of this action is that, from our point of view, the spy – and even operational – facilities of the United States and its allies will be at the disposal of the occupying Zionist regime, and this will increase the threat to our well-being. -loved country," Baqeri said.
Late last month, Israeli Minister of Military Affairs Benny Gantz paid an unprecedented visit to US Central Command headquarters in Florida, where he was received by CENTCOM Commander General Michael Kurilla.
During the visit, Gantz claimed that Israel's cooperation with CENTCOM and countries in the region was a "game changer" in the confrontation with Iran, adding that Israel and the United States "will continue to deepen cooperation" against Iran's peaceful nuclear program, which he accused of being aimed at obtaining a nuclear weapon.
Meanwhile, the IDF held a joint simulation training exercise with US forces led by CENTCOM in late July with the avowed aim of "protecting Israel from ballistic threats," according to a statement released Monday by the Israeli ministry. Foreign Affairs.
"I welcome the new cooperation between CENTCOM and IDF forces," Gantz said, according to the statement. He added that "combining forces" and "sharing knowledge" were among the objectives of the exercise.
Israel moved from US European Command to CENTCOM in September last year in a bid to streamline cooperation with US occupation forces in the region. The move is also expected to expand military coordination between the Israeli regime and some Arab countries, which began normalizing relations with the Tel Aviv regime under US-brokered agreements in late 2020.
In his message, Baqeri also said that countries in the region hosting US forces have already received written warnings from Iran, which views the US presence in the region as a serious threat.
"In addition to written announcements, warnings, and conveying the message through the Department of Foreign Affairs to countries hosting the U.S. military, we have declared and will declare our readiness and warnings by expanding our presence, including including air and sea patrols, deepening our intelligence dominance, and conducting various naval, missile and drone exercises," he said.
The Iranian general further said that Iran's friendly advice to neighboring countries is to maintain brotherly relations and cooperation to establish security in the region "by our own countries and not relying on foreigners."