Litchfield Girls Track Sends Seven to State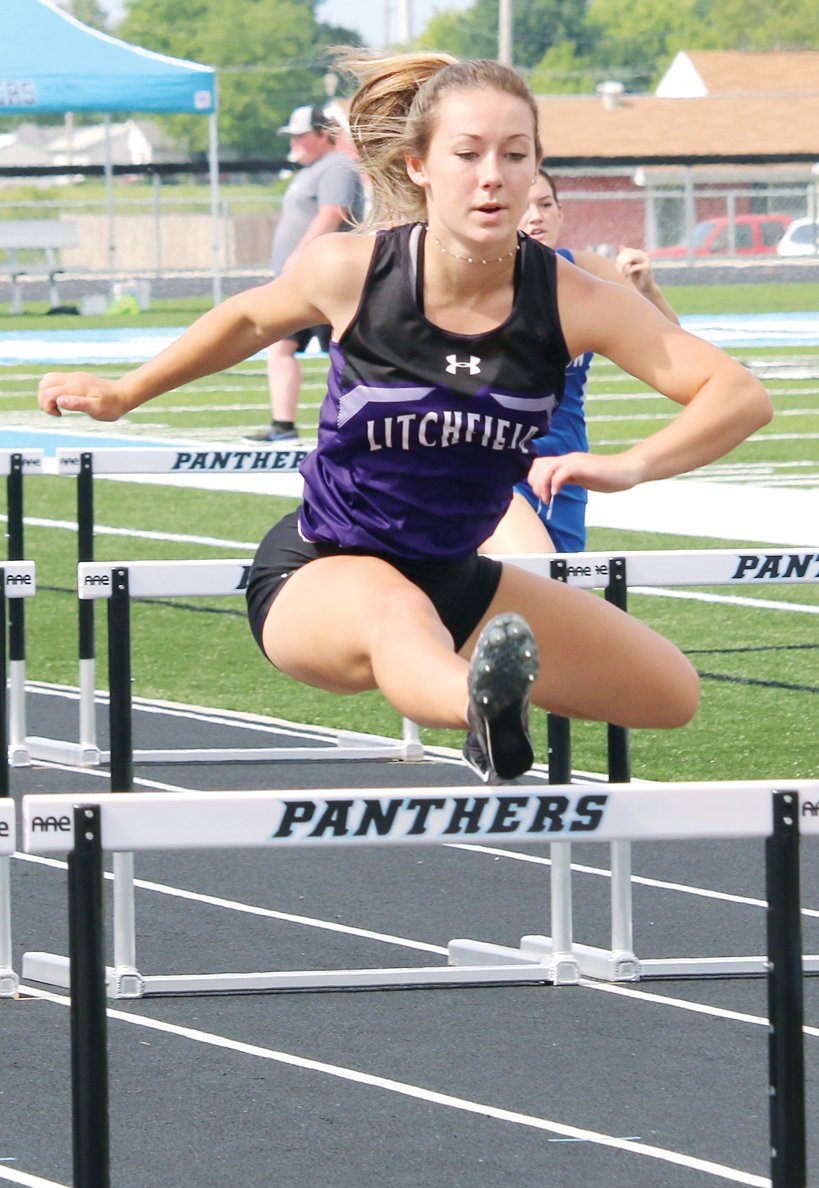 It has been a strange year for high school sport in general and the track is no exception. Even without off-season lifting sessions, limited training time and a long layoff due to last year's cancellation, the Litchfield High School women's track team showed on Wednesday that things do not don't have to be perfect to be special.
Competing in the North Mac sectional on June 2, the Panthers qualified for the state in seven events, including all three relays they entered. Two of the four individual qualifiers did so with personal bests, showing that the layoff, while inconvenient, was hardly insurmountable for the Lady Panthers.
Senior Kate Komor and junior Carly Guinn are among three state-headed relay teams, including the 4×400 team which was placed first and won the section title by 8.37 seconds over New Berlin. Emma Dively and Kendall Stewart were the other two stops in the 4×400 and helped the Panthers run in 4: 30.76 to clinch their ticket to the state final in Charleston on June 10.
The other two relays would both finish behind New Berlin, who also won the section title with 118.5 points, while Litchfield was second at 73.
Guinn, Komor, Stewart and Carson Lemon's 4×100-meter team ran a time of 53.89 to finish 2.06 seconds behind the Pretzels, while Guinn, Komor, Lemon and Lily Braasch's 4×200 team ran a time of 1: 58.02, finishing second by 6.19 seconds.
Lemon, Guinn and Stewart would also move to the state as individuals, with Lemon gaining two spots. The senior climbed 2.59 meters to win the pole vault for the Panthers and was second in hurdles by a thousandth of a second. Lemon was behind Auburn's Aleese Trimmingham a full step before the penultimate hurdle, but quickly closed the gap and nearly knocked the Trojan off the line, taking second place with a 17.11 against 17.10 for Trimmingham.
Lemon's hurdling time was a personal best, as was Stewart's 400, which she won by 3.29 seconds. The Panthers rookie clocked his best time of the season in 1: 01.71 to beat Riverton's Brandy Petitt, who clocked 1: 05.03.
Guinn would finish second in the high jump with a score of 1.57 meters, slightly better than his 2019 state qualifying score of 1.52 meters. She set her personal best in first year at 1,575 meters, the Carlinville Triangle and the South Central Conference meet.
Tentatively, Guinn and Lemon will compete in the state field events between noon and 2 p.m., with the first racing events starting at 2 p.m. with the 4×800 relay.
The 4×100 relay will be after the 4×800, with the hurdles from 3:45 p.m. The 4×200 will start at 4:35 p.m., followed by the 400 at 4:51 a.m. The last race of the day is the last race for the Panthers as the 4×400 closes things at 5:57 pm (all times are provisional).
June 2 in Virden Class 1A sectional
Results of the girls team: 1. New Berlin 118.5; 2. Litchfield 73; 3. Pawnee 63; 4. Jacksonville Route 55; 5. Gillespie 49; 6. Riverton 41; 7. Auburn 36; 8. Carlinville 31; 9. Mac Nord 29.5; 10. South County 13; 11. Springfield Lutheran 12; 11. Carrollton 12; 13. Greenfield 8; 14. Bunker Hill 5; 14. North Greene 5.
Litchfield Girls Results
100: 4. Kendall Stewart 13.38; 13. Lily Braasch 14.39
200: 7. Lily Braasch 29.92; 15. Briley Kester 32.25
400: 1. Kendall Stewart 1: 01.71
800: 5. Emma Dively 2: 46.55; 17. Emma Hughes 3: 45.68
1600: 6. Kylee Eiting 6: 41.31
3200: 4. Kylee Eiting 14: 10.06
100HH: 2. Carson Lemon 17.11
4×100: 2. Carson Lemon / Kendall Stewart / Kate Komor / Carly Guinn 53.89
4×200: 2. Kate Komor / Carly Guinn / Lily Braasch / Carson Lemon 1: 58.02
4×400: 1. Kate Komor / Carly Guinn / Emma Dively / Kendall Stewart 4: 30.76
Shot put : 16. Emma Hughes 6.31 m
Disk: 16. Emma Hughes 17.47 m
Big jump: 2. Carly Guinn 1.57m; 10. Lily Braasch 1,27 m
Pole vault: 1. Caron Citron 2.59m
Long jump: 13. Kate Komor 3.59m; 15. Madison Alvarado 3.55 m