Post-Brexit Temporary Thoroughbred Transport – BloodHorse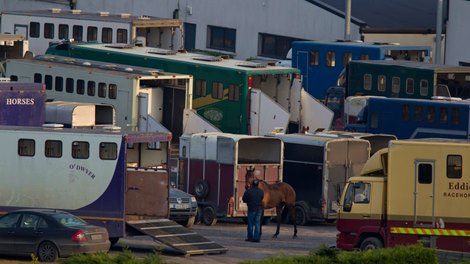 A change to customs arrangements has been agreed which should simplify the process of temporarily moving horses for racing and breeding in Britain.
In the majority of cases following the United Kingdom's withdrawal from the European Union, thoroughbreds crossing the border for such purposes had to be accompanied by a financial guarantee equivalent to 20% of their value.
Although the guarantee is refunded once the horse has returned home, there have been concerns about both cash flow problems and its deterrent effect for international participation.
The Thoroughbred Industries Brexit Steering Group has reported that a new 'industry-specific facilitation' has been agreed with HMRC to allow intermediaries such as hauliers and shippers to apply for permission to move Thoroughbreds under several owners without the need for the guarantee. provided.
This follows an adjustment made earlier this year by the Irish Revenue that horses traveling to Ireland to race would no longer incur a VAT deposit, although this does not apply to breeding stock.
Register for BloodHorse Daily
Group Chairman Julian Richmond-Watson said: "The Thoroughbred Industries Brexit Steering Group has been engaging and proactively proposing solutions on this issue, which has raised serious concerns in the industry, in discussions with HM Treasury and HMRC.
Horses loaded onto an airplane
"We are therefore very grateful to HMRC for this industry-specific facilitation which recognizes both the financial value and importance of the international thoroughbred movement and the challenges that the requirement for collateral posed to owners and breeders looking to race their horses or breed them in Britain."
The news was welcomed by Customs Support Ireland managing director John Dawson, who has been helping transport Irish-trained horses to major festivals since tighter regulations. He believes the new measure will help his business as it already has a presence in Britain.
Dawson, representing the company also known as Bell Transport and Logistics, said: "Most of the horses coming through would need an export certificate from an Irish company and then a UK company, but we can do it all as we have our own UK registered company.
"I applied for the temporary permission a few weeks ago so I should have it any day. We are doing everything so we are well equipped for this arrangement but other companies are not not registered in the UK and will need to do so."
The Steering Group was designed to ensure a defined future framework for the racing industry after Brexit.
Richmond-Watson added: "There remain significant challenges around the practical aspects of the thoroughbred movement post-Brexit, which, while our industry has adapted, can be improved through government working with industry on clearly available solutions.
"We are committed to improving the situation and putting in place a lasting settlement whereby the movement of Thoroughbreds for international competition and breeding, underpinned by the highest standards of equine health and welfare, is realised."