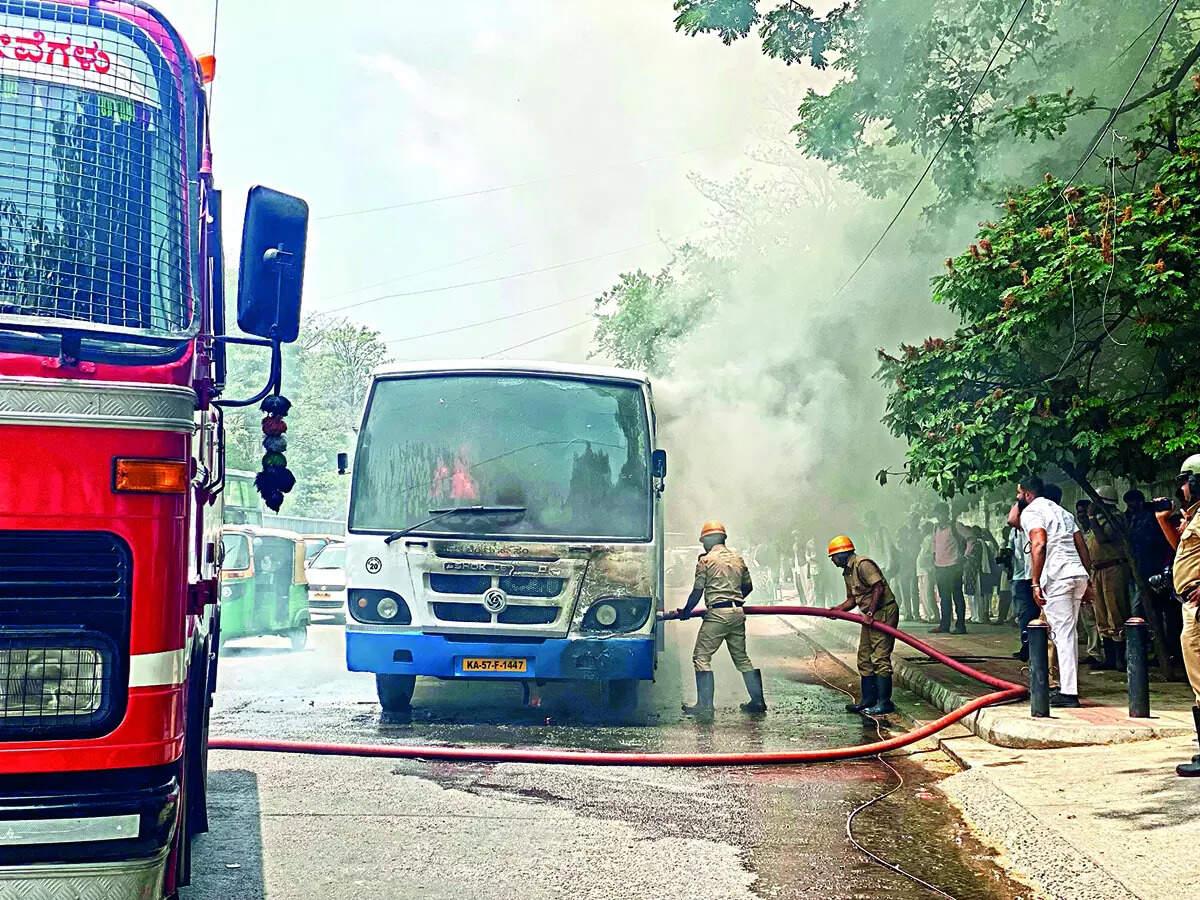 Thirty people escaped death on Saturday as a bus caught fire Sheshadri Road
Moments of tension reigned after a BMTC bus caught fire on Sheshadri Road near Maharani Women's Science College on Saturday afternoon. About 30 passengers narrowly escaped when the driver observed smoke coming from the engine.
Officials said the causes of the fire were engine overheating and a short circuit. However, the exact cause of the fire would only be established after the publication of the reports of the FSL where samples were sent from the emptied bus, a senior police officer said.
According to BMTC, the bus was a Ashok Leyland BS-4, a MIDI vehicle at BMTC operating between Majestic and Vidya Nagar which was ravaged by a fire Saturday noon around 12 p.m. near the SJP college.
The smoke appeared inside the engine cover. The driver and conductor alerted all passengers who got off the bus safely and with the help of the available fire extinguisher and fire personnel the fire was put out.
BMTC went on to add that there are 16 different types of vehicles at BMTC, among which the BS-4 MIDI type buses manufactured by Ashok Leyland are the ones that suffered fires. The bus that caught fire on Saturday is also an Ashok Leyland BS-4, MIDI model, a BMTC statement said.
The fire was first observed near the vehicle's starter, a short circuit may have been caused due to faulty starter and wiring design. Ashok Leyland's research and development department was tasked with rectifying design flaws in the starter and wiring. No passengers were injured in the incident, the statement continued.

This is the third BMTC bus that has been destroyed by fire in the space of three months. Recently, within 10 days, two BMTC buses caught fire. One of them caught fire on February 1. The incident happened near Nanda Talkies Road near South End Circle. After noticing the fire, the bus crew alerted the passengers who got off the bus belonging to Anjanapura Depot 44 in the direction of Kanakapura. No one was injured in the incident.
On January 21, a BMTC bus caught fire near Makkala Koota Park near Chamrajpet and about 25 passengers escaped uninjured. According to BMTC, all the buses that caught fire are MIDI buses and the company asked the manufacturer to technically examine it and check the existing bus fleet and rectify the problems.