Scalar Performance SCR1 is an all-electric track-ready Toyota GR86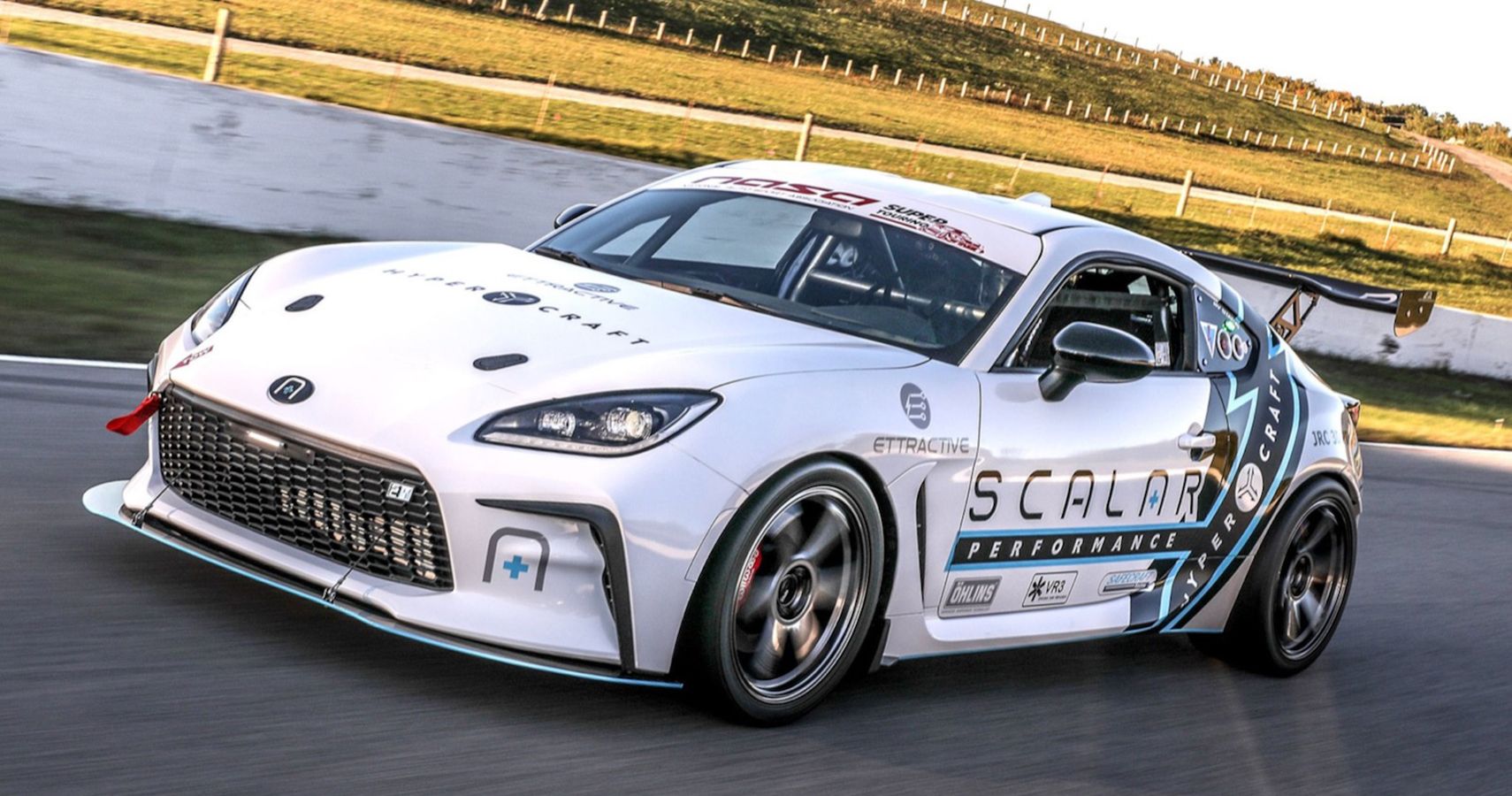 While it doesn't look like the automotive world as a whole is going EV-crazy, the leap that various automakers are making is pointing in that direction. With many of them vowing to electrify their queues over the next decade, the definition of consumer vehicles would change.
The ongoing change does not only affect people who drive daily from one place to another. The shift to electrification is also affecting the world of motorsport, in all its forms, to all effects. In fact, there already exists a single-seater motorsport championship for electric cars – Formula E.
Interestingly, a company called Scalar Performance is transforming Toyota GR86 sports cars into all-electric amateur racing cars. That's pretty surprising, especially because while Toyota intended race-minded people to use the GR86 as a race car, it never intended the believable, flexible sports car to become an electric car.
Yet Scalar Performance defied all odds and managed to convert the GR86 into a prepared track electric amateur touring racing car called SCR1. Scalar Performance indeed unveiled the SCR1 at the 2022 SEMA Show, hoping to draw attention to its new creation.
Scalar Performance's SCR1 is an electrified Toyota GR86
Scalar Performance never intended the SCR1 to just hit the roads. After all, partners Brian Bourne and Joel Fallaise are both amateur runners looking to create an electric racing car. Their goal was for this race car to provide a purist driving experience, but with minimal maintenance. This should allow the client team to focus on course setup as well as driver development.
With help from partners Hypercraft and Ettractive, Scalar Performance worked to deliver a race car that could compete in the National Auto Sport Association (NASA) Super Touring Series. The SCR1 is therefore the first electric club racing vehicle to receive approval for amateur road racing from NASA.
Although Scalar Performance does not explicitly say the base vehicle of the SCR1, but it is very obvious from the appearance of the race car that it is a Toyota GR86, but in EV form. Although it retained the exterior appearance of a GR86, the SCR1 is a creation of Scalar Performance underneath, with a number of special elements essential to its EV transformation.
RELATED: Toyota files patent for manual electric vehicle
Replacing a conventional engine with an electric powertrain
Scalar Performance had to remove or replace quite a few parts and components from the SCR1 to facilitate its transformation into an EV. For example, Scalar Performance removed the engine and transmission from the GR86 and replaced them with an electric transmission.
Propulsion is provided by an 800-volt Stealth EV motor from Hypercraft, drawing its juice from a custom 65kWh battery that Scalar Performance says is specifically designed for motorsport. This configuration provides approximately 328 hp of continuous power and 345 lb-ft of near-instantaneous torque.
In terms of performance, the SCR1 can zoom from zero to 60 mph in 3.9 seconds, which is a few seconds faster than a GR86. The SCR1 can go as fast as 165 mph. While those numbers aren't exactly impressive compared to other electric sports cars, Scalar Performance insists they designed the SCR1 for lap times, not spec numbers.
According to the company, the SCR1 has Level 2 and Level 3 DC fast charging capabilities. is good for a race time of more than 45 minutes.
Scalar Performance mounted the electric motor in the rear for a rear-wheel-drive (RWD) configuration, with support for the Ettractive 5.19:1 gear reduction with straight-cut gears as well as the Torsen limited-slip differential (Torque Sensing ).
RELATED: The Toyota bZ3 is the all-electric Camry of the future
Designed for safety with free hardware and software upgrades
To ensure a dynamic driving experience during races, Scalar Performance designed the SCR1 for a motorsport-oriented setup. This way, the SCR1 can offer drivers the feel of a mid-engined race car with a similar weight distribution. Supporting its dynamics is a bespoke suspension from Öhlins as well as a braking system that includes six-piston front calipers and four-piston rear calipers.
Weighing approximately 3,040 pounds, the SCR1 is loaded with a number of security features which enable it to meet or even exceed FIA safety requirements. For example, the SCR1 features thermal management and runaway prevention, as well as a Lifeline fire suppression system with Novec 1230 built into the battery.
Additionally, the SCR1 comes complete with a custom eight-point roll cage (paint to sample) from VR3 Engineering, a Safecraft Racing FIA six-point safety harness, a custom SFI safety racing net and a webbing strap. towing.
Scalar Performance is building a limited run of 10 SCR1s for the first edition. The so-called Founder Edition race cars will hit the track in the summer of 2023. Each limited edition SCR1 Founder comes with a distinct "1 of 10" plaque with the owner's name engraved on it.
The company will then follow the Founder Edition race cars with Gen2 models. First Edition owners can upgrade their race cars to SCR1 Gen 2 with hardware and/or software upgrades at no additional cost.
Source: scalar performance