SK Telecom expands autonomous pilot area to test advanced intelligent transportation system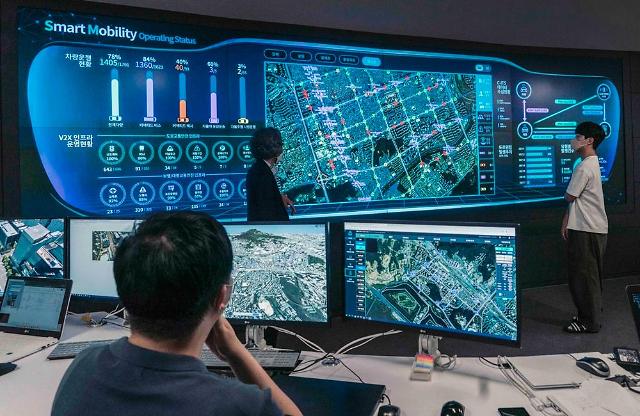 SEOUL — In a pilot area to test autonomous vehicles, SK Telecom, one of South Korea's leading mobile operators, will test an advanced intelligent transportation system that connects vehicles, pedestrians and traffic infrastructure with the 5G.
SK Telecom (SKT) has extended a pilot driving area for autonomous vehicles in Sangam, a residential and commercial district in western Seoul, to test a cooperative intelligent transportation system (C-ITS) that provides real-time information real such as traffic conditions so that individual vehicles could share data and prevent traffic accidents.
The smart road system incorporates smart vehicle and connected car technologies such as vehicle-to-everything (V2X) and Internet of Things (IoT) communications. SKT will test an advanced system in the 32.3 kilometer section. SKT would provide additional services for safe driving, such as child protection, pedestrian notification and CCTV footage of unexpected situations. Autonomous cars can receive safe driving information by installing V2X terminals.
V2X is a key autonomous driving technology that allows self-driving cars to communicate with other cars and facilities on the road such as traffic lights and pedestrian crossings. Using fast mobile data networks, encrypted information is shared to keep drivers and people on the move safe.
"We hope that the expansion of the pilot operation district will be an opportunity for 5G-based C-ITS services to take a step forward," said Shin Yong-sil, head of connected infrastructure division of SKT, in a June 27 statement. We will continue to lead the era of autonomous driving with the best 5G technology in the world."


SKT will use digital twin technology to create a virtual autonomous vehicle testing area where researchers can use a control tower system to test the safety and efficiency of digital clones of their autonomous vehicles. Various weather conditions such as rain and snow can be simulated. The virtual area will include real roads, school zones, street trees, traffic lights and real-time traffic.


Digital Twin technology allows the creation of virtual clones of real objects and environments. The technology is used to test dangerous equipment or simulate disastrous situations without causing catastrophic damage to the real world.

© Aju Business Daily & www.ajunews.com Copyright: Nothing on this site may be reproduced, distributed, transmitted, displayed, published or broadcast without the permission of Aju News Corporation.