Storms to leave Mother Lode Wednesday evening, PG&E expects to complete canal repairs by Saturday | News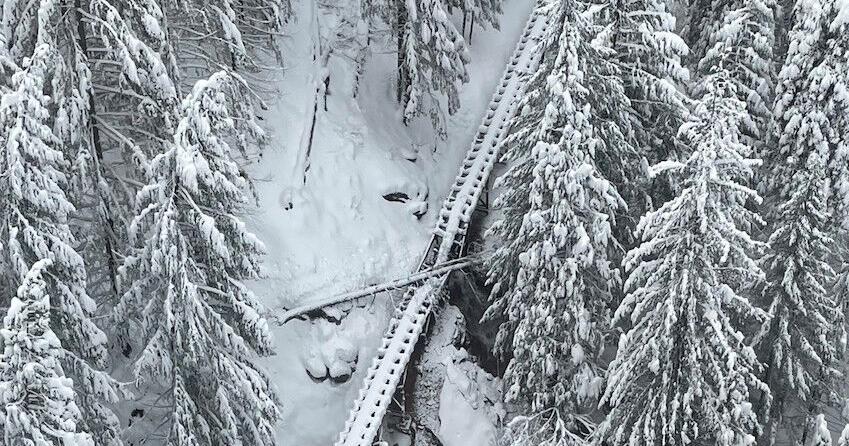 Pacific Gas and Electric Co. expected repairs to be completed by Saturday on a section of the Tuolumne Main Canal that was damaged by storms this week, as utility crews deployed to restore power to over 11,000 Mother Lode customers who stayed in the dark from Wednesday morning.
The good news for PG&E workers aiming to repair the canal that carries around 95% of the Tuolumne utility district water supply is that Thursday, Friday, Saturday and possibly Sunday are expected to be dry across Sierra Nevada. central, with no more snowfall or rain expected after midnight Thursday until the next set of thunderstorms begin on Monday.
"It should slowly go away by tonight," Scott Rowe, a National Weather Service meteorologist in Sacramento, said in a telephone interview Wednesday afternoon. "We don't expect much more precipitation, and it should end around 9pm tonight. Cold conditions can be expected throughout the weekend.
In addition, a winter storm warning for the foothills of Calaveras and Tuolumne counties at elevations above 2,000 feet was scheduled to expire at 4 p.m. Wednesday.
No heat wave is expected to melt all of the snow that initially thundered PG&E's efforts to reach the section of the Tuolumne Main Canal where a snow-laden tree crashed into an elevated canal between Twain Harte and the dam of Lyons.
Nightly lows in the Lyons Dam area are expected to drop to 26 degrees from Wednesday night through Thursday and remain between the mid-1920s and 20s through Saturday, with a nighttime low of 30 degrees Sunday through Monday.
Meanwhile, on Wednesday, some residents of Tuolumne and Calaveras counties had been without electricity for several days.
Megan McFarland, spokesperson for PG&E, said about 5,700 customers in Tuolumne County and 6,300 in Calaveras County remained without power on Wednesday around noon, a storm system hampering the progress crews made on Tuesday. .
Nearly half of the customers in the still-dark Tuolumne County on Wednesday were in the Twain Harte area.
McFarland did not have an estimated time to restore the remaining PG&E customers without power on Wednesday afternoon. She also did not have the exact number of staff assigned to these efforts, although she said the numbers were "important".
"We continue to bring more crews to support and have also activated our mutual aid agreement to get help from other utilities," she said.
Emergency services offices in both counties opened overnight warming centers from Tuesday to Wednesday and were trying to decide whether to open a warming center or centers for the freezing overnight temperatures expected for the rest. of the week (see related article on page A1).
Snow was still falling regularly along the snow-covered Highway 108 corridor above Twain Harte at 2 p.m. Wednesday.
"It's really snowing right now," said Victoria Voorhees, manager of Pinecrest Food Market on Wednesday afternoon. "It's anywhere from five to seven feet. Seven feet deep in unshoveled, unplowed areas.
The accumulated snow was 3 feet deep at Long Barn, a Long Barn Lodge employee said in a brief telephone conversation on Wednesday, adding that he was too busy to answer more questions.
Likewise, in Sierra Village, the snow outside was knee-deep and waist-deep in adults, as more falls continued to fall on Wednesday afternoon, said Patricia Hartzell, Sierra Village employee. Chevron, in a telephone interview.
"It's about three feet and it's snowing right now," Hartzell said.
Phone calls to businesses in Mi-Wuk Village, Sugar Pine and Twain Harte resulted in identical phone messages: "The number you dialed is not in service. Please check the number and try again.
The next set of storms, expected Monday through Wednesday, could bring 2-3 more inches of rain to Sonora and other communities in the Mother Lode foothills, and an additional 3-4 feet of snow to Ebbetts Pass, 2 to 3 feet more at Sonora Pass, and 12-18 inches more snow up to Tioga Pass.
Jeff Smith, a spokesperson for PG&E, said repairs to the Tuolumne main canal were expected by Saturday as long as there was no "extreme weather", which relieved TUD officials who monitored the district's emergency water supply.
Smith said the utility used a helicopter to find where a tree had fallen through part of the "A Flume" transport supply to the canal, a vulnerable system of canals and ditches built during the rush. gold that PG&E currently owns and maintains.
The canal is the key link that carries water from the Lyons Reservoir to the TUD-owned ditches which provide 95% of the water on which approximately 40,000 residents depend.
Westbrook said the district had enough water stored downstream to meet customer demand for about a week, which is one of the reasons he urged people to save as much as possible during the outage.
"As long as our customers continue to be conscientious about their water use, TUD should be able to meet customer demand for stored water," she said.
About 400 TUD clients who receive raw water directly from the ditch were completely without water, Westbrook said, adding that most of them use it for irrigation or farming purposes.
Westbrook also said there had been no discussions between TUD and PG&E over the cost of repairing damage to the canal, although the district is currently negotiating a possible acquisition of the utility's Phoenix hydroelectric project that would include the canal.
The district would be equipped to do the repairs itself in the future, Westbrook said.
"As the potential future owner of the system, TUD would be prepared to make the necessary repairs, depending on the type of incident and the repairs needed," she said.