Track teams ready for playoff success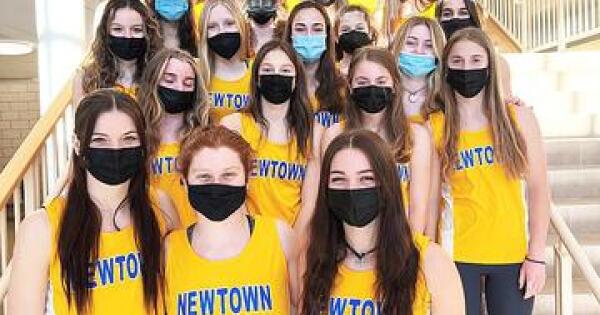 Posted: Feb 05, 2022 8:00 AM
Newtown High School's girls' and boys' track teams are optimistic heading into the Southwest Conference and state championships with plenty of playoff qualifiers.
Post-season competitions have qualifying standards that athletes must meet to be eligible to compete. The two teams played four competitions in January and the girls attended an additional meeting in the middle of the month. Some were held at Bethel High School's indoor track facility and others at the Floyd Little Athletic Center in New Haven. Coaches and athletes look forward to championships, eager to see what they can do.
"We are all very excited for SWC because we have a lot of new faces and new talent. Everyone has worked so hard this season and I can't wait to see what we can do," said senior captain Elise Barricelli.
For the SWC Championship, which will take place at the Floyd Little Athletic Center on February 5, the women's team has 24 individually qualified athletes and the boys' team has 14 individually qualified athletes.
"We feel good. We are all confident in our ability to do well in our races and events," said senior captain Aidan Budge.
All of the women's relays have cut their times in the last two meetings, improving their spots for the state championship. A 4×800 meter relay featuring Ally McCarthy, Riley Powers, Sophia Guevara and Hannah Snayd broke the school record with a time of 10:02.
Snayd also qualified for the New Balance Indoor Nationals with her 600 time of 1:40. Freshman Rachel Albrecht qualified for States in the 600, senior captain Emily Litke jumped a personal best high jump qualifying for States, and junior Kayleigh Troy tied the record in school for the 5-foot high jump.
Caleb Smith and Brock Dukate have shown their versatility throughout the season, competing in many different events with high marks in the high jump, pole vault, long jump, shot put, 55 meters and the 4×200 meter relay. Freshman Oliver Guzy qualified for the States in the long jump at the Jan. 19 meet.
The girls have 13 athletes qualified for the Class LL State Championship: Jamie Adams (55 meter hurdles 10.13, high jump 4-10), Katelyn Zaniewski (55 dash 8.01), Riley Powers (55 dash 8.02, 300 dash 44.58 , 600 meters 1:46.97), Barricelli (55 dashes 7.83, 300 dashes 44.40), Amelia Daly (300 dashes 45.45) Snayd (600 meters 1:40, 1000 meters 3:21), McCarthy (600 meters 1:48, 1000 meters 3:13), Guevara (600 meters 1:47.54), Albrecht (600 meters 1:49.57), Troy (high jump 5 feet), Litke (high jump 4-10), Grace Miller (long jump 14 -11) and Ella Hall (long jump 14-10).
The boys have six athletes qualified for the states: Smith (55 dash 6.93), Dukate (55 dash 6.99), Kevin Murray (shot put 40-2.75), Guzy (long jump 18-8.75), Budge (600 meters 1 :31.45 ) Cameron Whorf (300 dash 39.47 and 600 meters 1:31.62).
The Class LL State Championship will be held on February 11. There, qualified athletes will have the opportunity to compete against all the top athletes from all LL schools.
The NHS Women's Athletics Team has two dozen qualifiers for the South West Conference Championship who will put their skills to the test against some of the best when they meet on Saturday February 5.
The men's team will be represented at the conference championships by multiple team members.