Transport Safety Authority introduces performance benchmark testbed for semi-autonomous vehicles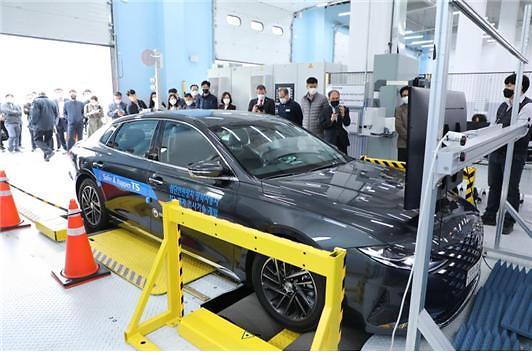 SEOUL — South Korea's Transportation Safety Authority has showcased a test bed platform designed to evaluate the performance of semi-autonomous driver assistance features in current and next-generation vehicles. The platform will later be upgraded so that the driver assistance systems can be tested on a real road.
A vehicle's Advanced Driver Assistance System (ADAS) assists the driver by autonomously maintaining the safe distance from other cars on the road or steering the car around a turn by monitoring and analyzing the road situation future. ADAS is not fully autonomous as it normally requires the driver to keep their hands on the wheel and pay attention to the road ahead so they can take evasive action in an emergency.
ADAS consists of complex networks of sensors and computer modules. It is designed to provide a more convenient and safer driving environment, but an application program problem or a case of equipment malfunction could lead to fatal accidents. ADAS is a popular option for consumers buying new cars. The global market for ADAS is expected to grow to $74.9 billion by 2030, according to global market research firm Markets and Markets.
The Korea Transportation Safety Authority (TS) said the state's transportation safety watchdog demonstrated a performance evaluation test bed for vehicles equipped with ADAS. The test bed platform designed to detect system and equipment malfunctions to prevent accidents was developed under a two-year state-funded project launched in 2020.
During the demonstration, the platform was used to test ADAS features such as Adaptive Cruise Control (ACC), Autonomous Emergency Braking System (AEBS) and Lane Keeping Assist System (LKAS). "We will upgrade and improve this test bed so that we can evaluate the overall performance of top-notch vehicle safety equipment on a real road," TS said in a March 14 statement.

© Aju Business Daily & www.ajunews.com Copyright: Nothing on this site may be reproduced, distributed, transmitted, displayed, published or broadcast without the permission of Aju News Corporation.