X-Press Pearl: Six emergency response stimuli from Colombo maritime disaster | Print edition

View (s):

"What matters most is 'REALITY ALL HOUR READINESS' was a strike line that I included in my guest post related to emergency response at sea in June 2018 for" 8 BELLS "- a magazine for captains of Sri Lankan merchant ships around the globe.
"The surface of the ocean leaves no traces" says a universal saying. While it can be under generic conditions – and not under certain conditions, the recent maritime disaster (chemical leak + fire on board + intervention deficit + destruction of the cargo + sinking of the ship + organic and eco marine pollution + logistical transport disruption + recovery) cost + offsets + overall economic decline) in and around the seas of Colombo surely left voluminous avenues of emergency response (ER) learning to remind us once again .
On this specific maritime disaster, there seem to be various expressions and counter-expressions on the effectiveness of the response. The detection of the chemical leak, the signaling of the leak, the sanction of the anchoring, the efforts made to seal or dilute the leak, the detection of incipient flickers on board, the adequacy of the extinguishing means, the immediate effort to Fire Fighting, Flame Spread Containment Effort, Resource Mobilization Effort, Cargo Recovery Effort, Crew Rescue, Towing Effort, Rescue Effort Ambient toxicity mitigation and so on (performed under volatile ocean weather fluctuations) are intensely debated in many maritime, commercial, logistical and political fields.
Despite the claims and counterclaims rolling in the mill, the episode's disastrous end result is grimly close to zero.
Where our ER fundamentals – clarity, capability, coordination, capability, competence and cohesion (6C) are questionable in the global areas of maritime investment, insurance and venture capital, we also place our preferred reputation theme – "Colombo Sea Port as one of the maritime logistics hubs" – in the line of uncertainty – both professionally and commercially.
The 'bang' created by the 'MV X-Press Pearl' is shockwave enough to shake even a less preoccupied person from a deep slumber to understand the harsh realities of life, work, business and life. world in general.
Hell usually breaks loose when you least expect it – and it's an enigmatically bizarre phenomenon. We can be businesses, institutions, navy, air force, military or government – every sector and every entity needs a new reinforcement to cope, not if, but WHEN one emergency suddenly arises at our respective doors.
Maybe we already have plans classified as "good", but we also need to be aware that "good is not good where BEST is expected".
In retrospect:
Notwithstanding the "One in a million" perspective by various, since 2005, through this educational column on risks, I have intermittently underlined the value of emergency preparedness and the "Prize for unpreparedness and of under-preparation ", citing various real cases. life emergencies and learnings as they occur, including the following.
Grenfell Tower Inferno – United Kingdom
Taj Hotel Hostage Fiasco – India
Tham Luang cave rescue mission – Thailand
BLACKWATER Shooting – Iraq
Unilever fire disaster – Sri Lanka
Kosgama military arsenal explosions – Sri Lanka
2016 flash flood disaster – Sri Lanka
Enrique Concert Invasion – Sri Lanka
Easter bombing disaster – Sri Lanka
History repeats itself until we do it right. So, let us now focus on six critical facets of emergencies that we need to recap, as suggested by the traces left by the "MV X-Press Pearl" maritime disaster.
Stimulus 1: Emergency prevention:
In a relevant sense, each country, each entity, each institute, each operation, each critical process of actions – companies and others – must devise emergency "prevention" plans and practices. Being armed with full emergency response preparedness does not guarantee that we will engage in routine maneuvers casually, without making an objective effort to provide for the unexpected.
On the contrary, an entity may be deemed effective in routine practices when it has not been required to activate its Emergency Response Plan (ERP) even once to date. They are entities that objectively prevent (potential) major emergencies in their daily actions. These entities handle early misadventures well with timely intervention. And then there are other indifferent entities (naively vulnerable) who have never had an emergency thanks to the simple "luck factor". This chance could also be qualified as efficiency, which is only illusory.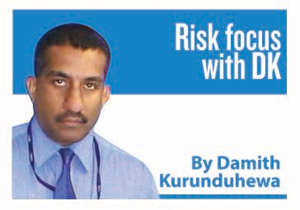 Stimulus 2: Design of the response:
The age-old maxim "Hope for the best – but plan for the worst" is human wisdom learned through bitter experiences. Thus, ERP blueprinting on the right platform is an essential measure.
In the case of RE, the capricious gray areas that exist in terms of "executive power" are a waste of time and efficiency. So in the case of a country the right kind of legislation – and in the case of an institute the right kind of organizational authority must be in place, in advance.
Authorized by clear authorization – RE concepts, risk analysis, probability and impact matrices, policies, objectives, budgets, structures, command flows, procedures, protocols, timelines, legal aspects, strategic and action manuals, etc. this segment.
"Plans are nothing, but planning is everything" – said former US President General Dwight David Eisenhower – and this functional insight underscores the criticality of this phase.
Stimulus 3: Intervention resourcing:
What if we see snowball in flames, and soon we find out that we don't have the precise way to fight the fire?
No emergency response can be successfully initiated and deployed to completion without the availability of appropriate and adequate resources at the action bay and in the pipeline flow.
Resourcing requires the right people, preferably recruited for proven effectiveness in emergencies. It includes plan thinkers, strategic planners, plan executors, stakeholders, logistics coordinators, communicators, medical staff, advisory experts, etc.
Next comes the gathering of response logistics such as equipment, tools, materials, communication and support services at the immediate, intermediate and final stages of the emergency, both on local resource platforms. and foreign, according to the calculated escalation of gravity.
The provision of emergency funds in relation to supply and instant financing during the actual crisis is another essential element to plan at this stage.
Stimulus 4: Action Simulate
"The risk comes from not knowing what we are doing," goes a saying.
This is why the RE education for the strategic strata and the RE orientation for the operational strata are necessary. Next, response teams need to be well trained on calendar schedules, followed by near real-life simulations modeled from moderate, worst, and ultra-worst case mockups with response heat mapping rightly removed.
Simulations should be evaluated with immediate and eventual feedback and management reviews of negative – neutral – and positive points for further improvements. And this cyclical event will continue to exist in the organizational calendar.
Stimulus 5: Real Response:
"BANG" sounds the alarm, and now or never is the time to throw the ball during the race… !!
The above four steps are now TESTED in reality, sometimes creating life and death scenarios for likely victims and responders.
This is why "being ready any day at any time" is the mantra for both safety and success. The right kind of emergency flow will quickly dispatch immediate response teams, rescue teams, external response agencies, and rescue and recovery (consolidation) teams.
The ER response is flexible for situational decisions and also for rational deviations from the ER plan based on field realities and unforeseen eventualities while keeping the ER objectives intact.
Stimulus 6: Recovery
Once the ER segment achieves its goals for success, then it is time to activate the Disaster Recovery (DR) phase. It's a seamless transition between the high octane ER action and the rather moderate DR movement.
The disaster recovery phase includes restoration and repair, media management, brand backups, damage assessment, inventory loss audit, insurance, incident investigation, compensation, etc. It also involves initiating post-traumatic stress disorder (PTSD) treatments for survivors of the emergency – as well as for frontline action terms who have experienced the cutbacks in response.
A rapid disaster recovery effort paves the way for a rapid activation of the BCP (Business Continuity Plan) within the applicable parameters with the objective of reaching BAU (Business As Usual) status as soon as possible.
As we can see, this is a complex preparatory work from conceptualizing the ER to eventual consolidation. This is why preparation in advance is emphasized as "when a disaster strikes, the time to prepare has passed".
"You don't drown when you fall into the water; we drown by staying there "resounds the wisdom shared by Edwin Louis Cole.
It's time to get ready to swim just BEFORE THE FALL !!
(The author is an enterprise risk and ERP / BCP specialist and enterprise risk trainer who is CEO of Strategic Risk Solutions. He has also been a guest columnist for The Sunday Times since 2005. He can be contacted by e -mail on solutions @ sltnet.lk or
via the website www.solutions.lk)